Reno mattress is laid out directly on the ground which needs to be protected. Therefore, the slope shoule be stable, not too steep to landslide.
Generally, the stability of soft slope si better than rigid one, and further, the reno mattress is designed to aoapt the movement of the soil in a certain extent, not to produce structural problems.
The structure is generally associated with water slope in the right angle laid on the embankment.
However, if the riverbank and riverbed must be completey covered, the gabion / reno mattress laid on the bed shoule be in the
The general structure and water flow is laid in embankment slope angle, but if the embankment and river plate must be completely covered is laid in the riverbed pads/case should be in the same water is the direction.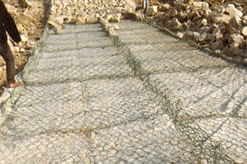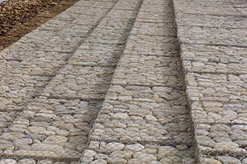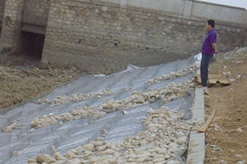 Embankment slope under different geological condltions to 1:1.5 or 1:1.2 ratio of construction, mendium viscosity for the general use of the maximum tilt angle of the soil, while for non-cohesive fine sand is used the minimum value. Gabion overlay should be anchored in the river banks upstream or downstream, to reduce the flow of the underlying or surrounding soil erosion. Also need to note that the stability of lining reno mattress depends not only on the strength of the grid, also depends on the thickness of lining and rely on filling specificationgs.